I thought it would be useful to add some of my own learnings from the last couple of years traveling to Orkney. This is a very personal and therefore rather limited guide but may be of help.
Travel to Orkney
Getting to Orkney is complicated. And, expensive. The cheapest way is to take a ferry from Aberdeen with NORTHLINK but in winter months the ferry is dependent on weather and sea conditions. You can catch connecting flights with LOGANAIR to Kirkwall from Edinburgh, Glasgow or Aberdeen. The carry-on is minimal and the weight allowance is strict because of the size of aircraft.
Travel on Orkney
Beware car rentals at the airport if you don't have an UK driving licence. You will be obliged to take a massive premium (in my case, it was around £1,000) if you book through TULLOCK (+44 1856 876262). I've often used them and they've been very good to me, but…If you reserve through DRIVE ORKNEY (+44 1856 877551), it was around £300 for me for an MVP. Quite a difference. Plus they'll meet you at the airport if needed.
 Where to stay
Orkney has a large number of wonderful B&Bs. The two that I've used are would recommend are BEDROCK (+44 1856 761007) which is conveniently situated at Harray between Kirkwall and Stromness. Shona Logan and Ray Gould are very accommodating and helpful hosts. Shona's cooked breakfasts are the best start to the day. Caroline Kritchlow runs the QUOY at Houton (+44 1856 811237). In summer months, it's divine. Her garden overlooks Scapa Flow and she is one of the best gardeners on Orkney.
Some places to eat & drink
Here's a very limited list of some of the places that I get to when I'm on Orkney. For the best Fish and Chips, there's a wonderful place which always serves freshly fried fish.
On the Kirkwall harbour front, always pop in to HELGI's. It's a great place to have a Swannay Scapa Special, a glass of The Duke and something easy to eat.
Or, sometimes on Saturdays, there's music at the REEL beside the cathedral, not far from JUDITH GLUE.
In the afternoon, the small café at the back of JUDITH GLUE opposite the cathedral is lovely for a mid-day snack or afternoon tea and scones.
In Stromness, there's a lovely small café called the —–.
Some shops worth visiting
A Few doors down in the ORCADIAN bookshop where you will find all sorts of books about Orkney as well as a very wide range of naval and aviation interest books. Sylvia Irving and her staff will find some treasures for you if you let them know your interests.
Some memories of Orkney
If you like liquid memories…
You should visit the small distillery overlooking Scapa Bay. The distillery is special to me. Royal Navy personnel helped put out a fire that broke out in 1917. The newspaper report said that help was on the scne in minutes!
In 2016 I worked with them on designing a limited edition of their beautiful 16 year old to commemorate the Centenary of the Battle of Jutland. It's well worth while to pop by the visitor centre where you can do some tastings.
---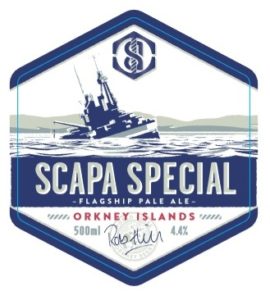 Go to Swannay Brewery near Birsay and take away some of Rob Hill's special craft beer.
Or pick up a bottle (if you can call the beautiful ceramic bottle just that) of Gary and Andrea Watt's Scapa Centenary Navy Strength Orkney Gin.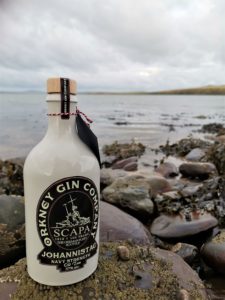 This may be a bit self-serving but call in at JOHN KEMP in Kirkwall (+44 1856 873190) on – street. If you enjoy history, you'll be able to find either a Scapa Flow Scuttle (1919) or Jutland (1916) Centenary beanie or Polo. Mary, Karen or Zoë will be able to help you with some special orders if you want. It's a lovely way to remember your visit. (PHOTO).
---
For the historians and those interested in local Orkney History
Maybe start out at the Orkney Archives and Library where David Mackie in the Archives can help guide your research.
In Kirkwall, drop by the Orkney museum across from St Magnus Cathedral while in Stromness get to the Stromness Museum tucked away a short stroll from the harbour front.
Across on Lyness, Jude Callister at the Lyness Visitor Centre on Hoy which you can get to by ferry from Houton. You can drive there along the north of the Flow from Kirkwall through Scapa and Orphir or take the Kirkwall-Stromness road. If you do the latter, be prepared for the wonderful view that you have of the Flow as you round the last bend above Houton.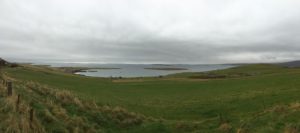 If you want to tour some of the defences of Scapa Flow – Ness battery, for example, or the airfields – get in touch with archaeologist and tour-guide Andy Hollinrake of VISIT NESS BATTERY (+44 7759 857 298). For a visit to Orkney's extraordinary early history, you should not leave Orkney without seeing Skara Brae, the stones at the Ring of Brodger or the Broch of Gurness. You can organize a guided tour with someone like David Murdoch of ORKNEY TAILOR MADE (+44 1856 466008). It's a perfect way to enjoy and learn from these wonderful heritage sites.
And for divers
If you want to dive on the wrecks with someone who really knows them, there's maybe no better choice than John Thornton. It's a no-frills experience but you couldn't be in better hands.
When you're there – best info sources
There's a small monthly publication (which you can pick up at the airport) called ORKNEY ADVERTISER. Any interesting events or conferences in the month are listed. Of course, there's The ORCADIAN newspaper, out each Thursday or Orcadian.com. Each morning, around 07:30, BBC Radio Orkney, gives some updates on what's going on.