Days after the Armistice was signed, Admiral Beatty met with German naval representatives on his flagship, HMS Queen Elizabeth.
At midnight on November 16th Admiral von Meurer, the German representative left for Kiel with his orders. The High Seas Fleet was to be delivered into allied hands in Rosyth five days later.
74 ships were demanded by the allies.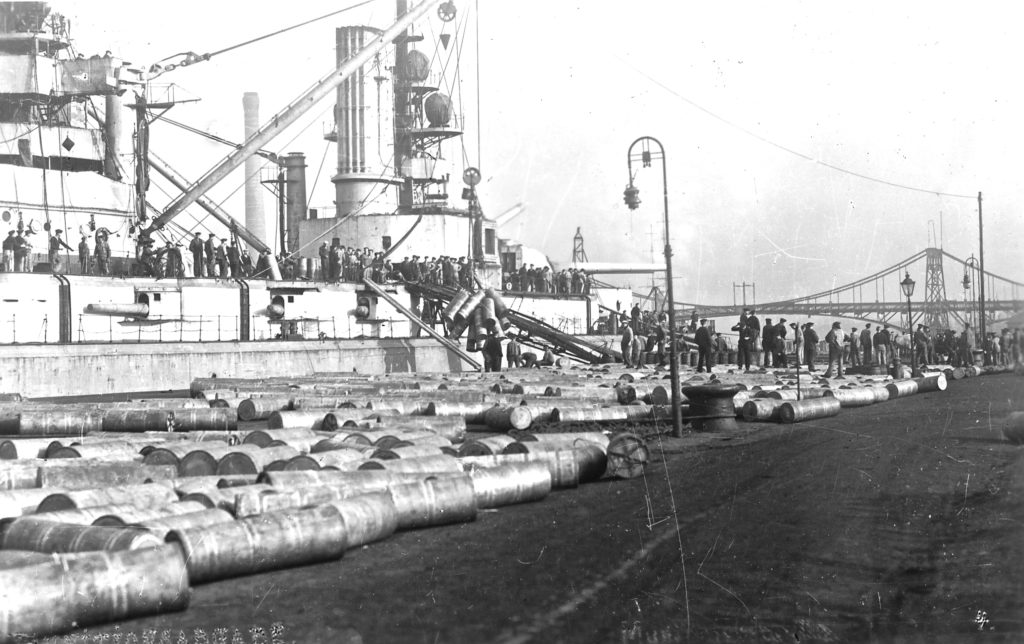 Crews frantically took off anything that could assist in the hostile use of the ships – torpedoes, munitions, firing mechanisms. Coal, water and provisions were loaded up for an anticipated 37-day internment.
Under the command of Rear Admiral Ludwig von Reuter, the man chosen by the Commander in Chief, Admiral Hipper to take these once proud ships into captivity, the great procession left home harbours.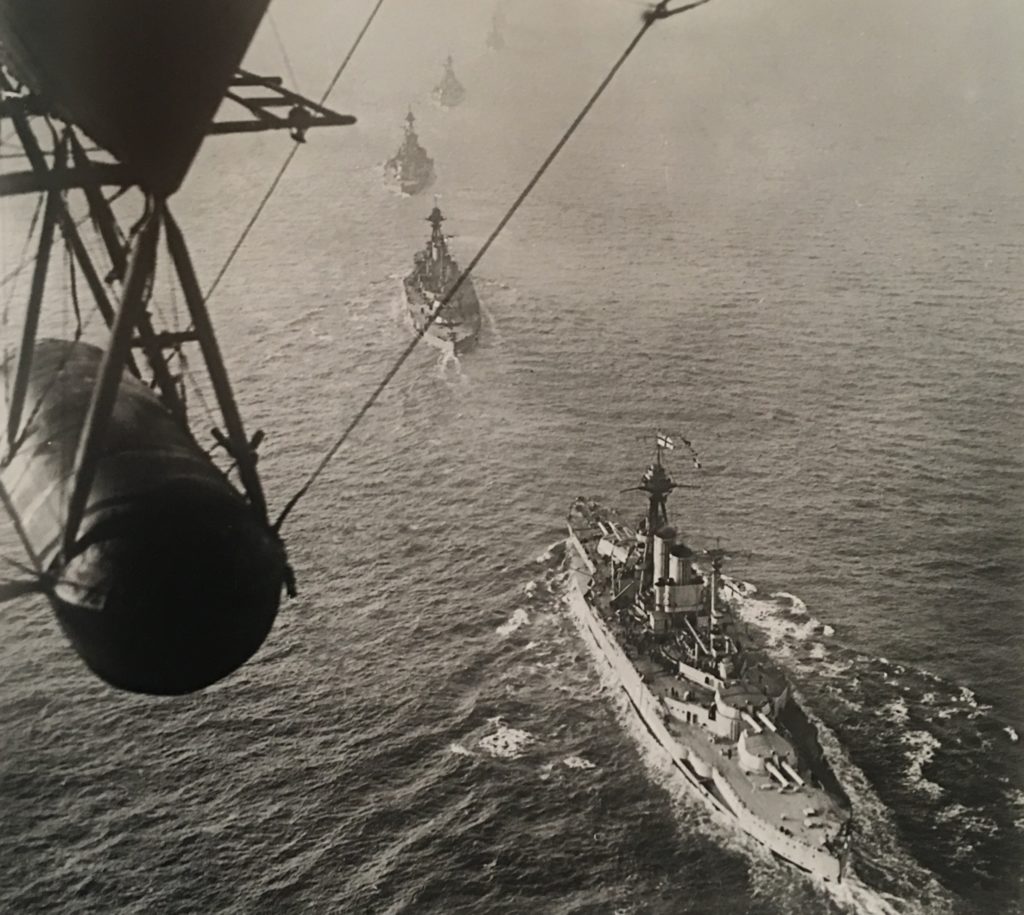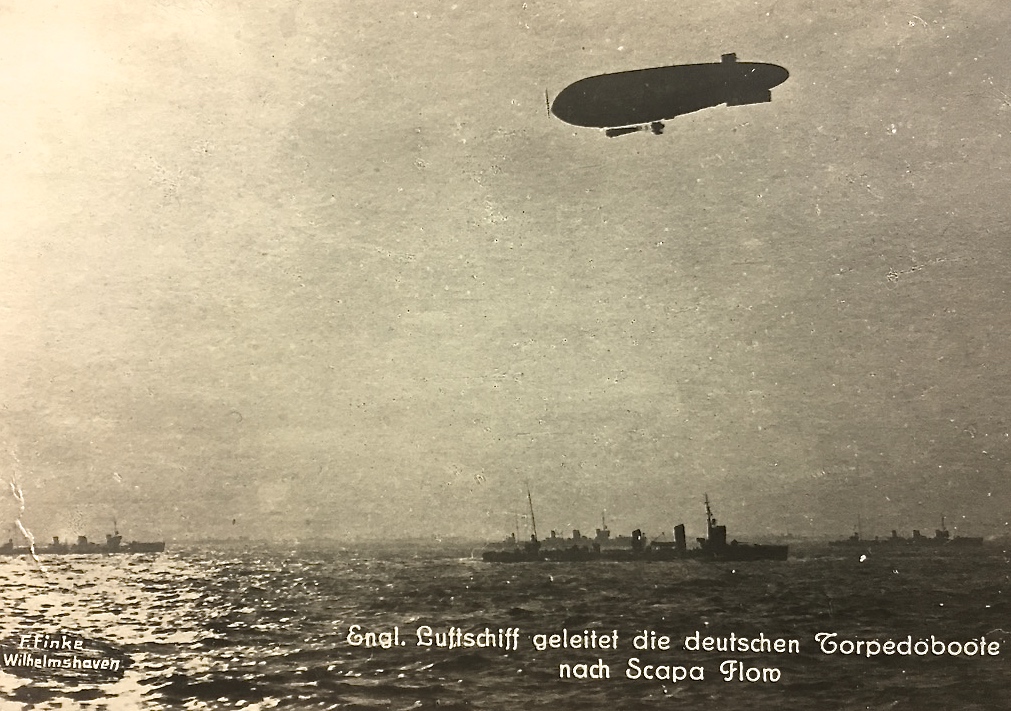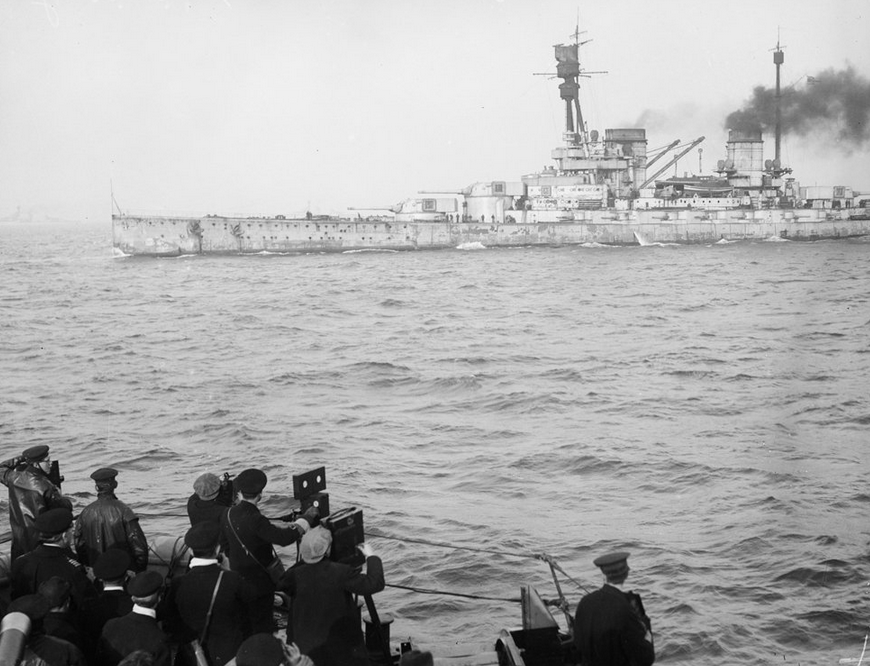 They were met by more than 250 heavily armed allied ships. Cheering British sailors kept each ship under its guns, manning their guns and torpedo tubes.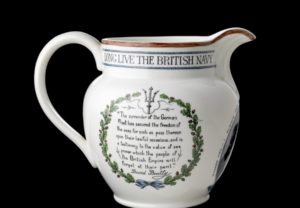 At sunset, Beatty announced that the German flag was to be hauled down and not to be raised again until he allowed it. For almost all German naval officers, it was a slap in the face that would never be forgotten.
ORGANIZATION OF THE INTERNED FLEET
Fleet Staff
Senior Officer: Konteradmiral Ludwig von Reuter
Chief of Staff: Fregattenkapitän Iwan von Oldekop
Admiral's Staff Officer: Kapitänleutnant Lautenschlager
Flag-Lieutenant: Oberleutnant zur See Schillig
Squadron Paymaster: Stabszahlmeister Habicht
Naval Advocate: Marine-Krieggerichtsrat Lt. Loesch
Squadron Engineer: Marine-Ob.stabs-Ing.Faustmann (Markgraf)
Squadron Surgeon: Marine-Stabarzt. Dr. Lange (PrinzR. Luitpold)
Battleships
Baden: Korvettenkapitän Zirzow
Friedrich der Große: Korvettenkapitän von Wachter
Bayern: Kapitänleutnant Meißner (or Hugo Dominik Bayern)
Große Kurfürst: Kapitänleutnant Beer
Kronprinz Wilhelm: Kapitänleutnant Becker
Markgraf: Korvettenkapitän Schumann
König: Korvettenkapitän Junkermann
König Albert: Korvettenkapitän Böhmer
Prinzregent Luitpold: Kapitänleutnant von Reiche
Kaiser: Kapitänleutnant Wippern
Kaiserin: Korvettenkapitän Viertel
Battle-cruisers
Derfflinger: Korvettenkapitän Pastusczyck
Hindenburg: Korvettenkapitän Heyden
Von der Tan: Kapitänleutnant Wollanke
Moltke: Kapitänleutnant Erelinger
Seydlitz: Kapitänleutnant Brauer
Light Cruisers
Emden: Kapitänleutnant Ehlers
Brummer: Kapitänleutnant Prahl
Bremse: Oberleutnant zur See Schacke
Frankfurt: Kapitänleutnant Beesel
Köln: Kapitänleutnant Johann Heinemann
Dresden: Kapitänleutnant Fabricius
Nürnberg: Kapitänleutnant Georgi (SPELLING BERICHT)

Destroyers / Torpedo Boats
Leader, Torpedo Boats: Korvettenkapitän Hermann Cordes (S.138)
Flag Lieutenant: Kapitänleutnant Schniewind (S.138)
Squadron Engineer: Marine-Oberstabs.Ing.Halwe (H.145)
Squadron paymaster: Marine-Zahlm.d.Res. Horn (S.138)
I Torpedo Boat Flotilla
Leader: Kapitänleutnant Henrici (G.40)
G.38
G.39
G.40: Kapitänleutnant Henrici
G.86
V.129
II Torpedo Boat Flotilla
Leader: Kapitänleutnant Menche (B.110)
B.109
B.110: Kapitänleutnant Menche
B.111
B.112
G.101
G.102
G.103
G.100
III Torpedo Boat Flotilla
Leader: Kapitänleutnant Steiner (S.54)
S.53
S.54: Kapitänleutnant Steiner
S.55
S.91/ G.91: Leutnant Fritz von Twardowski
V.70
V.73
V.81
V.82
VI Torpedo Boat Flotilla
Leader: Kapitänleutnant Oskar Wehr (V.44)
Half-Leader XI Half Flotilla
Leader: Kapitänleutnant von Bonin (S.131)
S.49
S.50
S.131
S.132
V.43
V.44: Kapitänleutnant Wehr
V.45
V.46
V.125
V.126
V.127
V.128
VII Torpedo Boat Flotilla
Leader: Korvettenkapitän Hermann Cordes (S.138)
Half-Leader XIII Half Flotilla
Kapitänleutnant Roslik (S.56)
Half-Leader XIII Half Flotilla
Kapitänleutnant Reimer (S.136)
G.89
G.92
H.145
S.56: Kapitänleutnant Roslik
S.65
S.136: Kapitänleutnant Reimer
S.137
S.138: Korvettenkapitän Hermann Cordes
V.78
V.83
XVII Torpedo Boat Flotilla
Half-Leader: Kapitänleutnant Ganguin (V.80)
S.36
S.51
S.52
S.60
V.80: Kapitänleutnant Ganguin
Source: Reuter pp.122-124